WebAssembly music
Peter Salomonsen
Agenda
Intro / background
Sequencer
Synthesizing with AssemblyScript
Audioworklet
Export WASM
Introduction
WebAssembly deliver performance for rendering realtime audio
Low latency possible with AudioWorklet
Let's create a synthesizer and sequencer in WebAssembly
Background
Trackers and m68k assembly on Commodore Amiga in late 80s/90s
Created a DAW for Java in 2005 ( Frinika )
Recent years wanted to express music in code with javascript controlling a midi synth
Was introduced to 4klang (x86 assembly synth) which is capable of rendering fantastic music from just a few kb
Could something similar to 4klang be done in WebAssembly?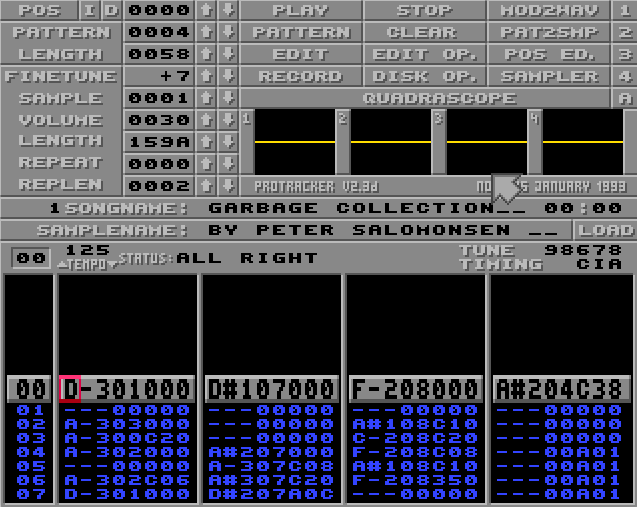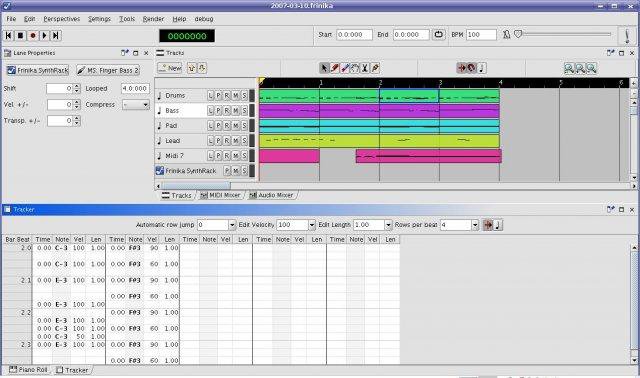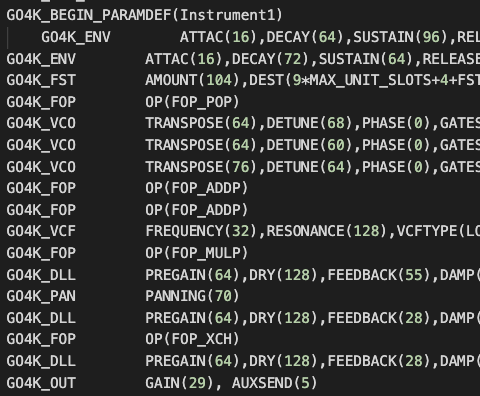 Warning
Experimenting with synthesizers can produce sudden unexpected very loud noise, which may damage your hearing
Keep the volume low, especially if using headphones
Make sure you know where the mute button is :-)
The basics
The simplest instrument
Add to the mix
App map
Sequencer
(same as in 4klang)
A simple pattern sequencer
Short fixed length patterns



                [0, 0, 0, 0, 0, 0, 0, 0], 
                [64, 0, 65, 0, 0, 67, 64, 0], 
                [22, 23, 34, 34, 34, 0, 44, 45],
                [22, 33, 0, 0, 34, 0, 44, 55]
        

Track for each instrument with a list of patterns to play



                [0, 1, 0, 2],
                [1, 1, 3, 3],
                [0, 0, 1, 2],
        

this is all it takes to orchestrate the instruments
Generate sequencer data from code
javascript api to create patterns Pattern data
Patterns to be played per instrument
Record MIDI and generate code
While playing, midi input data is stored to patterns
If we want to use the recording, we can paste it as code
Pattern data is "reverse engineered" to javascript code, with durations on the notes instead of repeated hold commands
Synthesizer
powered by WebAssembly
written in AssemblyScript
AssemblyScript
why did I choose it?
High level readability
Low level control
Pure WebAssembly output (no additional js lib)
Builds optimized for speed and size ( Binaryen )
Create WebAssembly binaries in the browser
Great for live coding: rapid development, instant results, directly in the browser!
Synthesizing instruments in AssemblyScript
No sampled data, just code
Data driven or code driven?
You can synthesize an instrument by connecting envelopes, oscillators, filters etc.
Typical to create a data structure to be interpreted at runtime
With AssemblyScript/WebAssembly we can instead generate and compile the code in the browser
Just like modern web-frameworks resolving configuration at compile-time (such as language)
Our binary can contain the logic directly rather than an interpreter of data describing the logic
Faster and smaller builds, no interpreter overhead
Not just for synthesizers but also for e.g. smart contracts
Compiling is cheap, make pre-configured binaries rather than configuring at runtime
AudioWorklet
The "proper" way of using AudioWorklet would be to have one node per instrument and let WebAudio do the orchestration/mixing
But then we couldn't have music produced by a single WebAssembly executable binary
Made a polyfill for the purpose of serving this app
AudioWorklet model of render audio callback for WASI? ( similar to JACK and Core Audio )
Latency
Realtime rendering with low latency only possible with AudioWorklet
Can still experience clicks and glitches on the lowest latency
Possible to request higher latency when creating the AudioContext
"interactive" or "playback" or custom latency
Also helps enabling "Use realtime priority thread for Audio Worklet" flag in chrome
Export WASM
create self-contained WebAssembly executables that can render music
Use Wasmer to export raw audio data and import into e.g. Audacity with 32-bit float, little endian, stereo:


wasmer song.wasm > song.raw

Play directly from Wasmer by piping to sox:


wasmer song.wasm | sox -S -t raw -b 32 -e float -r 44100 -c 2 - -d

Create wav directly from Wasmer by piping to sox:


wasmer song.wasm | sox -S -t raw -b 32 -e float -r 44100 -c 2 - song.wav

or use the exported WASM binary from nodejs or the browser
--:--:--